DF Lochbleche Gmbh & Co KG Perforated sheets, assemblies and more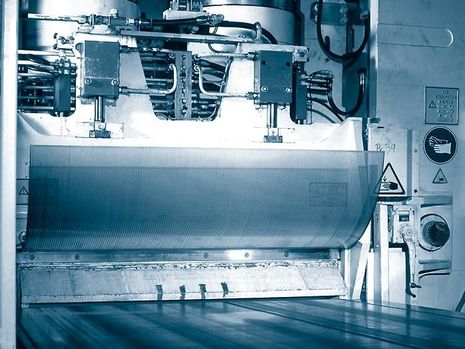 Experts in perforated Metal
As one of the leading manufacturers of perforated metal in Europe, our large production depth allows us to offer you a wide and unique range of products.
facade of perforated sheets
railings
filters
perforated filters tubes and supports for filter elements
washing machine drums for industrial applications
screening and sorting drums
and much more: click here to find examples of applications.
Thanks to our state-of-the-art machine park, we are able to meet almost any customer requirement. Completely manufacturing the perforated sheets from one source, we let our customers benefit at the best from existing synergy potentials. We would like to show you here a short film which will give you a deeper insight into our world of perforated metal.
Every innovation starts with an Idea. The idea of connecting functionality and unlimited possibilities.
Advanced manufacturing equipment and optimised internal and external logistics enable us to guarantee the best possible qualitative and timely realisation of your ideas and plans. Beyond the manufacturing and further processing of perforated plates, our technical service also provides you with advices and supports, already in the early planning phase of your projects and products. Further interesting information on our products, in particular concerning our stock assortment and the further processing of products are available on the website of our partner company: www.dfgb.de
DF Lochbleche Gmbh & Co KG is one of the major suppliers for the Audi Terminal Facades and delivers the perforated, bended and anodised plates from one source.

no news in this list.no news in this list.no news in this list.