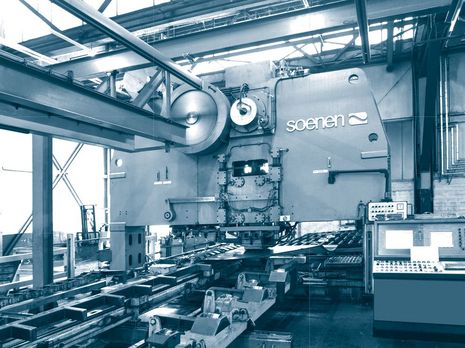 Founded in 1895, the Dillinger Fabrik group has more than 100 years experience in the field of manufacturing and processing perforated plates. Together with its subsidiaries and affiliated companies, the Dillinger Fabrik group employs more than 300 people, 200 of whom work in the Dillingen location.
Our perforated plate products are sold directly and by our foreign partners in more than 20 European and non-European countries. On this website, we would like to introduce the DF as one of the leading European manufacturers of perforated plates, offering an exceptionally wide product range: from ultra-thin sheet to 30 mm thick perforated plates; from complex housings for electrical switchgear to medium-sized plant engineering; from perforated slotted casings to installation-ready rotary screens for large-scale mineral processing and sorting plants.
The use of laser systems, the welding processes Metal Inert Gas Welding/Metal Active Gas Welding, Tungston Inert Gas Arc Welding, Plasma Jet Welding, and various processes of surface treatment enable us to meet almost any customer's requirements in the field of perforated plates and further processing of perforated plate. In addition to manufacturing and processing, we provide advice to our customers right from the product development phase to jointly secure production and cost-optimised design of the outsourced parts.
Our CAD department will be glad to supply appropriate drawings.

no news in this list.no news in this list.no news in this list.